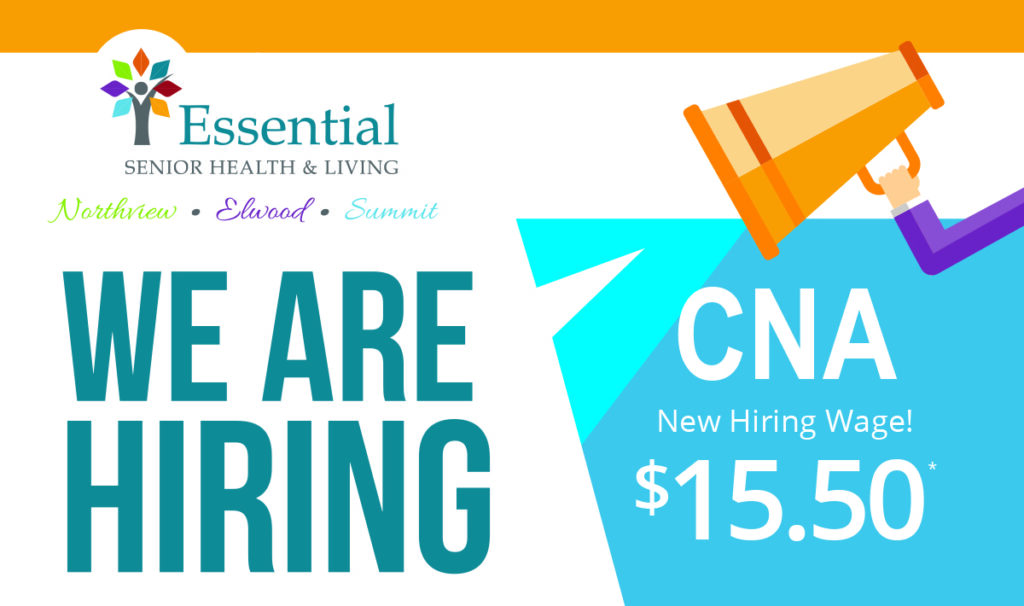 We are currently hiring CNAs at all 3 Essential Senior Health & Living locations.
+ Employee Perks!
Weekly Pay
Hiring Bonus
Exceptional Resident to Staff Ratio
Complimentary Meals
Weekend Option Package, with 130% of Base Wage
Referral Bonus
Tuition Assistance
Apply online or stop by any of our campuses to fill out an application.
Northview Health and Living
1235 West Cross Street
Anderson, IN 46011
765-203-2409
Elwood Health and Living
2300 Parkview Lane
Elwood, IN 46036
765-203-2672
Summit Health and Living
701 South Main Street
Summitville, IN 46070
765-203-2671
*New hires have the option to choose a pay rate of $15.50 per hour, without the accumulation of Paid Time Off OR a pay rate of $14.00 per hour, with accumulation of Paid Time Off.